Cheap hotel in Munich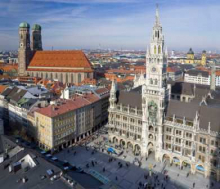 Munich is a beautiful city between the Danube and the Limestone Alps, providing many interesting sights, and a popular holiday destination all year round. Whether you decide for a short or a longer stay in Munich, it is usually easy to find a cheap hotel in Munich. The many trade fairs and congresses taking place in and around Bavaria's capital, as well as the great shopping opportunities, attract many millions of tourists to Munich every year. With a bit of research, a cheap hotel will be found in Munich, either in the outskirts as even in the city centre. A hotel near the centre of Munich is perfect for anyone who wants to see the sights of the city by walking or who have business appointments in the city centre.
Your Hotel in Munich - cheap and centrally located
If you are planning a stay in Munich, be sure to visit the most impressive sights of this city. Therefore it makes sense to book a cheap hotel in Munich that would be located as centrally as possible. Most suitable is the area surrounding the squares of Marienplatz or Königsplatz, for example. There are many museums, such as the Glyptothek or the Staatliche Antikensammlung, displaying many impressive historical artefacts.
But even far away from the museums you can discover many attractions in Munich. The annual Oktoberfest on the Theresienwiese is only one of the regular events that are a must-see for any Munich visitors. The city has also a lot to offer in the area of parks. The most popular one is the romantic Schlosspark Nymphenburg in the west of Munich.