Hotel in Munich Milbertshofen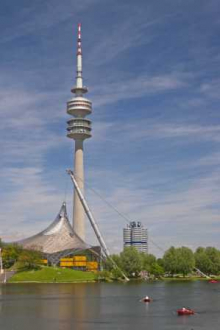 Are you planning a visit to Munich and you are interested in sports, fast engines and underwater worlds? Then you should look for a hotel in Munich-Milbertshofen. Milbertshofen is located in the northern part of Munich between the districts of Moosach and Schwabing-Freimann. It hosts large commercial and industrial estates as well as residential areas and large-scale recreational and sports facilities. By booking a hotel in Munich-Milbertshofen you get direct access to the city centre by car as well as by public transport. Just get on the U 2 metro line and after a few stops you will arrive at the central station .
Worth seeing in Milbertshofen
Although this district is strongly characterised by industry and commerce, there are still some elements you should not miss. You will find here one of the landmarks of Munich, the television tower. From the viewing platform 185 meters above the ground you have an impressive view over the city and the Olympic Park with the tent-shaped roofs of the stadium and hall. Furthermore, the Rock Museum Munich with many exhibits from the history of rock music is located there.
Back on the ground, you can take a relaxing walk through the extensive park areas of the Olympic Park. For fans of technology and engines, a visit to the BMW-Welten and the BMW Museum should definitely be part of the programme. Here you can experience the appeal and history of vintage cars up close. And if you are travelling with children, they will certainly enjoy a visit to Sea Life where you can meet octopus & friends. Book a hotel in Munich-Milbertshofen and discover the most beautiful sites of the north of Munich.