Hotel in Munich Obergiesing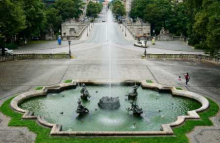 Enjoy the city of Munich from a hotel in Munich-Obergiesing. This small district in the southeast of Munich is known for its ideal transport connections to the local train and metro networks. The S3, S7, U1 and U2 lines connect the outskirts of the city with the city centre and the trade fair grounds. You can also reach the hotels in Munich,Obergiesing easily by car via the Mittlerer Ring or the A 995 motorway. Rooms in Obergiesing are still moderate by Munich standards despite their convenient location.
The almost thousand year old Hauser farm, faithfully preserved, is historically significant. Worth seeing is also the Church of the Holy Cross on Giesinger Berg, built in 1886 in neo-Gothic style, whose 95-meter tower dominates the district. The old Giesinger railway station has in the meantime been converted into a cultural centre, providing a platform especially for artists and young talents from south-eastern Munich.
Places of interest in the area
There are only a few parks, but from a hotel in Munich-Obergiesing you are quickly outdoors. The Bavarian lakes are right on Munich's doorstep and always worth a visit. Just pack your swimming costumes and go to the Tegernsee - or maybe you prefer a sailing trip on the Starnberger See? During the winter season, the many ski resorts in the foothills of the Alps, only a day trip away, are the most inviting idea. Arts and culture lovers are attracted by the many museums, galleries and theatres in the city centre, and for night owls there is the huge number of clubs and bars in Munich's city centre.