Hotel in Munich Sendling Westpark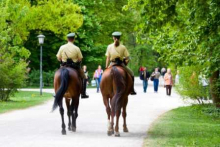 Sendling-Westpark is located in the south-western part of Munich and extends from Obersendling to the Schwanthalerhöhe. District 7 is architecturally remarkable for its many detached and semi-detached houses, most of which date from the time between WWI and WWII. Sendling-Westpark also consists of a large number of green spaces. Cultural lovers will of course also get their money's worth in this part of Munich.
The Villa Flora and other beautiful city villas are located here. The church known as Gethsemanekirche which houses the community centre and a community hall is also very beautiful. There are many impressive baroque apartment buildings and sacral buildings around. District 7 is also known as a green oasis in the middle of Munich, and of course it is one of the most famous regions of the capital of Bavaria. Finding a hotel here in Munich Sendling-Westpark is not a problem.
Great variety - accommodations for every budget
If you are looking for a hotel in Munich Sendling-Westpark, you don't need to worry about your household budget, because in this district you can find luxurious 5-star hotels as well as simple accommodation for limited holiday budgets. Due to the large supply, a suitable hotel for every demand is guaranteed in Munich Sendling-Westpark.
Owing to the excellent transport connections and the rapid public transport network, you can travel to this part of Munich by train, bus or car. The central station is very close by and the nearest airport can also be reached quite easily by bus. Sendling-Westpark is the right place for families as well as singles to get to know Munich's 'green side' up close.