Hotel in Munich Obersendling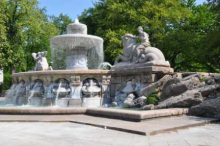 Munich is among the most beautiful cities in the state. The city presents many different facets to visitors, for besides well-known festivals and cultural events there are also many fascinating sites to visit in Munich. From the Olympia Tower, for example, you have a wonderful view from 190 meters above the city.
There are also many other items on the list recommended in the city guides. For finding peace and relaxation after a hard day's work, a hotel in Munich-Obersendling is recommended. This district in the south of Munich is very quiet but still easily accessible and centrally located. There are three local train (S-Bahn) lines, as well as the metro line 3 passing through Obersendling. You can reach your destination quickly and comfortably within a short travel time.
Munich is multifaceted
Munich is one of the trendiest cities in Germany. Not only nightlife but also fashion is very popular in this city. After your sightseeing tour you can relax in a hotel in Munich-Obersendling . Everyone knows the Munich Oktoberfest. For many visitors from abroad it is the term with which they associate Germany in the first place.
There are also plenty of suitable traditional costumes, such as leather trousers and 'dirndlÄ dresses found. Obersendling used to be a workers' and industrial district. Siemens in particular is strongly represented here. In recent years the district has changed and now you can also find nice hotels in Munich-Obersendling. Munich is definitely worth a visit as the city offers unlimited options for you.