Hotel in Munich Maxvorstadt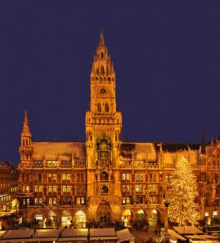 The district of Maxvorstadt is located right between the famous Stachus (Karlsplatz) square and the Odeonsplatz. Furthermore, District 3 borders on the old town of Munich that offers impressive sights. The public transport network as well as the road network in Maxvorstadt are of excellent quality. You can get everywhere without a car.
Maxvorstadt offers some magical sights and architectural monuments that you should definitely visit during your stay. First there is the square of Königsplatz, built in classicistic style. The former 'Führerbau' from the time of WWII is also located in District 3, telling of earlier times. Maxvorstadt is of course also a popular destination for culture and history fans due to its impressive highlights. If you book a hotel in Munich-Maxvorstadt, you can reach all these wonderful monuments by a few minutes walk.
Holiday in the cultural and historical heart of Munich
If you wish to spend your holiday in District 3, be it with your family, alone or with your partner, you will find many hotels close to each other in Munich-Maxvorstadt. This district has developed into one of the most popular regions within the Munich city limits in recent years.
Maxvorstadt offers many culinary delights, restaurants, bars and pubs, but also a lot of culture and architecture from times long past. There is no need to worry about your finances because you can find a hotel in Munich Maxvorstadt even for a limited budget. Select from many different categories of facilities and thus also from different pricing ranges.