Hotel in Munich Riem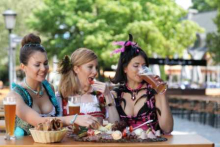 For many years only headlined as the location of Munich Airport, the district of Riem has grown considerably in recent years. Since the airport site has moved to Erdinger Moos, Riem is not only a good place to work but also to live.
The new Messestadt-Riem district, established in 1998, includes many residential areas as well as office and commercial space. If you want to stay here, you have the choice of various hotels in Munich-Riem. From family guesthouse to 4-star hotel in Munich-Riem, everything is available you need to make sure that your visit to Munich is perfectly tailored to your wallet.
What to do in Munich Riem?
If you are staying in a hotel in Munich-Riem, you can prepare for a number of activities. You can reach the Allianzarena stadium in the north of Munich just as quickly as the Hellabrunn zoo, and using the S-2 train you can get to the city centre with all its cultural highlights in a short time. Use the Riem-Arcaden for shopping and find 120 shops on 30,000 m².
Spend a relaxing day in the Riemer Park, which was converted into an extensive local recreation area after the end of the BUGA 2005 fair. Skater park, bathing lake and magnificent green areas provide for relaxation and recreation. You may also enjoy a day at the racetrack. The historical Munich-Riem racecourse offers entertainment for the whole family. A playground, a bouncy castle or pony rides provide lots of fun for the kids while their adults have fun during the races or even dare to make a small bet. Nearby is also the Munich-Daglfing harness racing track.