Inexpensive hotels in Munich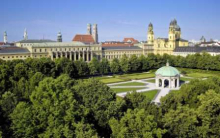 People planning a vacation in Bavaria's capital of Munich will find wonderful sights, first-class events and a high degree of hospitality and enjoyment. Munich offers both in winter and in the hot summer months much entertainment for all age groups and of course also many different hotels.
You will not miss any highlights, even without a car. Starting at the Stachus square, there is a walk straight through the gate of Karlstor to the biggest shopping street of Munich, Kaufingerstraße. After only a few metres walk in the pedestrian zone you will see the towers of the Church of Our Lady rising. The foundations for this church were laid as early as the mid-15th century.
Today it is one of the most famous sights in Munich. The square called Marienplatz with the New City Hall is not far away from the Church of Our Lady, the centre of Munich. Anyone looking for hotels in Munich can of course check in right at the Marienhof hotel, luxuriously and centrally, or choose one of the somewhat cheaper alternatives in the outskirts.
That's what's making Munich so appealing
The city of Munich and its residents are known for their commitment to tradition. One of the most famous and traditional events in Munich is the Oktoberfest on Theresienwiese, attracting tens of millions of visitors every year. Cheap hotels in Munich are of course a rare commodity during that season, which is why you should try to find suitable accommodation in the Bavarian capital as early as possible. Then, however, it will be possible to obtain really cheap hotels in Munich and experience the Oktoberfest with all its attractions and highlights at a reasonable price.