Hotel in Munich city centre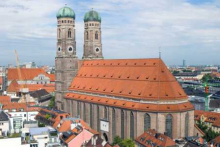 Germany's third largest city, Munich, is the destination for many top-class events and trade fairs all year round. This is associated with an ever-growing job market, many attractive commercial sites and a particularly wide range of industries. This makes Munich one of the most popular cities and destinations for business travelers.
Munich not only has a lot to offer in economic terms but also in terms of culture and entertainment. From the impressive museums, such as the Munich City Museum, via cultural event locations, like the Munich National Theatre, to many gastronomic offers you can get to know Munich in many different ways. Whether you will stay here for a longer time or just travel to Munich for a weekend or for a business appointment, you can book your hotel either in Munich's city centre or in the outskirts. There are many opportunities in all price and accommodation classes.
Accommodation in style: Munich has something for everyone
Tourism is particularly important for the capital of Bavaria. Munich is on the one hand one of the largest economic metropolitan areas in Germany but on the other hand also offering many touristic sights. Munich therefore provides many different types of accommodation.
For people who want to stay at a very exclusive and luxurious place, a 4-star hotel in the centre of Munich is a good choice. There is no need to compromise, you can enjoy luxury and comfort to the highest level while staying right in the centre of the city. Far away from the hotel in Munich city centre, there are also affordable accommodations for the smaller budget in the outskirts of the city.