Hotel in Munich Untermenzing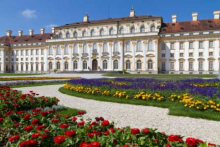 Hasenbergl is one of the northern districts of Munich. If you have chosen a hotel in Munich-Hasenbergl for the length of your stay, you can also get to know this district. While it used to be a social hotspot of Munich in the past, Hasenbergl has experienced a change especially in the last few years. Therefore your hotel in Munich-Hasenbergl is a good choice. The centre and the attractions of Munich can be conveniently reached from there, therefore you can leave your car behind. The metro will take you into the city within just a few minutes.
Sports fans will also get their money's worth in Munich
The newest symbol of the city is allegedly the Allianz Arena football stadium. From a distance it looks like a UFO. The two best known clubs in the city play football there. Other major events also take place there. Are you interested in architecture? You should then take part in one of the guided tours. As you probably know, Munich hosted the 1972 Summer Olympics.
The Olympic Park can still be visited today. Regular sporting events still take place there. The Olympic Tower can be seen from afar due to its height. Once you have visited the Olympic grounds in Munich, you can also visit the BMW World nearby. There you can learn a lot about the history and the vehicles of the Munich car company. After an exhausting day during which you have learned a lot about Munich, you can recharge your batteries at your hotel in Munich-Hasenbergl. Experience Munich and its flair live.