Hotel in Munich Bogenhausen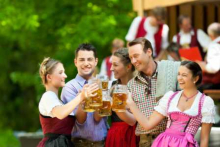 Noble villas, grand manors, spacious parks: this is the image that many visitors associate with the Munich-Bogenhausen district. Discover the beauties of the art nouveau villas on a leisurely walk through Alt-Bogenhausen, enjoy the extensive Maximilian Parks or the palace garden. The district's landmark is the Friedensengel (Angel of Peace), gazing over Prinzregentenstraße from a height of 38 metres.
It was created between 1896 and 1899 in memory of the then 25-year-old Treaty of Versailles. Another characteristic feature is the Prinzregententheater, built in 1901 for Richard Wagner and used as an opera and playhouse. You can reach a hotel in Munich-Bogenhausen via the Mittlerer Ring or via the A94 motorway, exit Munich-Riem. The city centre is also accessible via the S-8 commuter train line or the U-4 metro.
History meeting modernity
The oldest building of Bogenhausen is certainly the church of St. George, and even the Romanesque foundation walls of its tower are still preserved. The nave received its splendid decoration, however, not until the 18th century when eminent Bavarian rococo sculptor Ignaz Günther created the pulpit and side altars. Around the church and the cemetery there is still some of the original character of the village preserved, with Arabellapark, Cosimapark or Zamilapark, however, modern living and working centres have been established since.
Arabellapark in particular has gained great importance with high-quality hotels in Munich-Bogenhausen and as an office and congress centre. In addition, a hotel in Munich-Bogenhausen will get you quickly into leisure activities: the Cosima spa provides bathing fun, golf courses are also nearby. And if you are keen on equestrian sports, you can make a detour to the nearby Munich-Riem gallop racecourse or the Munich-Daglfing trotting course.