Hotel in Munich Neuhausen-Nymphenburg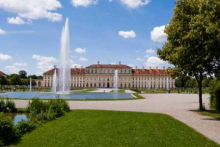 Between the Olympic Park and the Botanical Garden there is the district of Neuhausen-Nymphenburg. This part of Munich is certainly known for the Nymphenburg Palace, which is also the main attraction of the district. This baroque complex impresses by its absolute symmetry, the magnificent parks with the castles of Amalienburg and Pagodenburg are among the most important parks of Munich.
Why not explore these treasures of the Bavarian royal family, visit the porcelain factory, the Winthir Church or the Sacred Heart Church or simply enjoy a stroll through the noble streets of the district? When looking for a hotel in Munich's Neuhausen-Nymphenburg, you have a wide range of choices. You will find everything from functionally furnished rooms at a convenient location to stylish accommodation in originally restored villas: Everything is available here.
Shopping and happy beer gardens
Make the most of your stay in a hotel in Munich's district of Neuhausen-Nymphenburg to take a stroll through the Nymphenburg shops. Shopping fans will get their money's worth here, from historical leather trousers and fashionable designer clothing to fine delicacies. Would you prefer to have everything under one roof? From your hotel in Munich's Neuhausen-Nymphenburg you can easily reach the OEZ, which is the Olympia Shopping Centre. Bavaria's largest shopping centre includes 135 shops, department stores, restaurants and cafés on two floors, offering everything you need to spend a pleasant day.
Neuhausen-Nymphenburg also has another great thing to offer: the largest beer garden in Bavaria, the Royal Deer Garden. You can enjoy Bavarian specialities and, of course, a pint of beer in idyllic surroundings near the parks of the Nymphenburg Palace, completing any decent visit to Munich.