Hotel in Munich Schwanthalerhöhe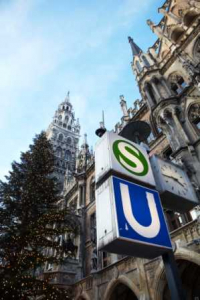 The workers' and craftsmen's quarter known as Schwanthalerhöhe developed in the second half of the 19th century. Houses were tightly packed and more and more warehouses and factories built. The Schwanthalerhöhe district marking the western end of Munich's city centre (hence its alternate name Westend) is still a busy district today, but it is undergoing change.
The Munich Technology Center is located on the former site of the rubber factory, modern housing estates have been built on the former exhibition grounds, and ever more green spaces are adding to the district's ambience. Schwanthalerhöhe offers visitors all kinds of possibilities due to its proximity to the city centre. There are various hotels in Munich-Schwanthalerhöhe offering accommodation to suit all expectations.
Bavaria, Oktoberfest and other goodies
At a hotel in Munich-Schwanthalerhöhe you are right at the forefront of events. In the eastern part of the district is the Theresienwiese, featuring its Hall of Fame and the Bavaria statue as landmarks and worth a visit all year round. Schwanthalerhöhe was named for sculptor Ludwig von Schwanthaler who designed the statue of Bavaria. Other attractions include the Theresienwiese, especially when the Oktoberfest opens its tents here every year.
From a hotel in Munich.Schwanthalerhöhe you can quickly reach the festival site and even leave your car behind. The branch office of the Deutsches Museum, featuring an exhibition of travel, traffic and technology, is also worth visiting. There are two metro lines, 4 and 5, crossing Schwanthalerhöhe, and they will take you to the central station or Stachus square in just a few minutes. From there you are right in the pedestrian zone or may get connections to all other commuter and metro trains.