Hotel in Munich Forstenried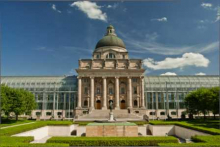 One of the oldest districts of the Bavarian capital is named Forstenried. There you can find almost only residential areas, but still there are several hotels in Munich-Forstenried. Although Forstenried is a district of a large city, it has retained some of its rural character.
The well-known recreational area of the district is highly frequented especially in the summer months. When visitors choose a hotel in Munich-Forstenried for a stay, this does not imply that it will be boring there. Like anywhere else in the city, local public transport is well developed. Using metro line 3, you will quickly reach the centre of Munich.
Munich is a city for everyone
Just at the end of September many people will flock to Munich - following the motto, 'It's tapped'. The city, however, is also worth a visit in the other months of the year. Visitors interested in regional history can learn more about Munich in one of its many museums. Also the Viktualienmarkt, a well-known square, should be visited once.
Munich means sightseeing because many different buildings from different eras can be found here. Also, history was written here at some places. Visitors to the city who are interested in the nightlife and like to party can find popular clubs and discos. But also bars or upscale restaurants invite you inside. Afterwards, you can relax from the exhausting day at your hotel in Munich-Forstenried. The Church of the Holy Cross in Forstenried is recommended for a visit. Munich is a city that you simply have to adore.