Hotel in Munich Fasangarten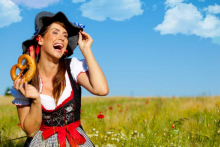 Munich's Fasangarten district got its name from a forester's lodge near Perlach to which a pheasant breeding farm was added in the early 18th century, remaining active until 1805. The settlement tdeveloped here was incorporated into Munich in 1937, and Fasangarten now belongs to the Obergiesing district.
This area was already a popular place for workers and day labourers who had not found a place to stay within the city boundaries of the Middle Ages. A relic of that time is the Stone of Atonement (Sühnestein), first mentioned in 1510 and is now located at the crossing of Kulmbacher Platz and Seemüllerstraße. If you want to walk in the footsteps of history or prefer to enjoy the amenities of a modern big city: a hotel in Munich-Fasangarten offers you an excellent starting point for a variety of activities.
Culture, nature and much more
With a hotel in Munich-Fasangarten you are right in the middle of the city. A separate station of the local train line 3 offers a perfect connection to Munich's city centre. Only six stops further on, you can step off at the square of Marienplatz and stroll through the pedestrian zone. City Hall, the Church of our Lady, the National Theatre or the Viktualienmarkt: everything is just around the corner.
If you would rather enjoy a trip into the countryside, the Perlacher Forst is a local recreation area very close to your hotel in Munich-Fasangarten. To enjoy a cultivated beer in special surroundings, we recommend a detour to Paulaner's at the Nockherberg kill. The traditional beer festival takes place here, in the Salvatorkeller, every year. Celebrities and politicians get a good dose of sarcasm before the new beer is tasted.