Hotel in Munich Altstadt Lehel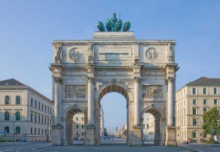 The Altstadt Lehel district is the most centrally located district of Munich. Firstly consisting of the impressive Altstadtring (Old Town Ring) and secondly of the Lehel, adjoining to the north-east, the district of Altstadt Lehel has a lot to offer its visitors. The district of Altstadt Lehel also includes the two fortified river islands, Museum Island and Pirate Island, in its area.
If you have booked a hotel in Munich Altstadt-Lehel, a number of sights, events and culinary delights await you. Visit the Church of Our Lady (Frauenkirche) or the English Garden or attend a performance at the theatre known as Kammerspiele Schauspielhaus. You may find your Hotel in Munich Altstadt-Lehel featuring different interior design and price categories. Lodging is available for every taste, whether you are a family, single, on a business trip or a cultural holiday.
Holidays in the heart of Munich
The Bavarian capital of Munich is not only made of Theresienwiese and the Oktoberfest any more. Munich has become increasingly established as a cultural and business metropolitan area lately, providing many entertainment options for its visitors. The infrastructure has of course also been greatly expanded in recent decades.
Besides an excellent public transport network, a hotel is easily found in Munich's district of Altstadt-Lehel, meeting whatever are your requirements. In the most centrally located district of Munich, you will certainly have to reckon with slightly different prices than in the outskirts of the city, but it is only a few minutes' walk to the next sightseeing or event. Visitors with a limited budget can look for a hotel in Munich Altstadt-Lehel that would offer the expected comfort but does not exceed the personal budget.