Hotel in Munich city centre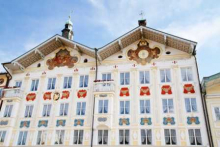 Whoever plans a trip to Munich cannot miss the attractions of the city centre. Being a centre of cultural life, this part of Munich is lined up with one attraction after another. The city centre extends from the Franz-Josef-Strauß-Ring in the east to the Isartor in the south. Of course you can travel comfortably within the district by public transport.
It goes without saying that many hotels and guesthouses have settled in and around Munich's city centre. Therefore, if you are looking for a hotel in Munich's city centre, you usually don't have to go to much trouble. You will quickly find a large number of different hotel rooms in various price and equipment categories. Both singles and families will find entertaining, impressive and culinary delights in the centre of Munich.
This is what Munich's Altstadt has to offer
Choosing a hotel in the centre of Munich opens up a wide range of sightseeing and entertainment opportunities. There are 17 different museums and 15 theatres in Munich alone. The city centre is also home to Munich's landmark: the Church of Our Lady or Frauenkirche.
Beside you can visit many other monumental buildings setting out from a hotel in the city centre of Munich, such as the Old and New City Hall, the Old Court, the former Royal Residence or the gates of the former city fortifications. Shopping lovers will also get their money's worth here. The old trading streets between Sendlinger Tor and the square of Odeonsplatz are now one of the main shopping streets in this district. For culinary delights, you should best visit the Viktualienmarkt right in front of the old parish church of St. Peter.