Accommodations and hotels within and around Munich!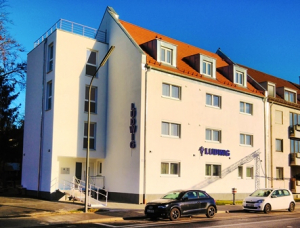 You are welcomed at Hotel Ludwig by your hosts, the Teske family. Here, hospitality, friendliness and, of course, you - our guests - are always in the first place. Whether you are travelling for business or pleasure, a destination where you can arrive and relax is a necessity: your Hotel Ludwig. Relax and enjoy peace and recovery in our bright and modern rooms at a unique central location with excellent public transport connections.
Informations about Munich
The Bavarian capital of Munich offers a great diversity of events, restaurants and shopping options, but it is also an important economic metropolitan area of the Federal Republic of Germany. With tourism, retail and transport as its major branches, Munich is the second largest economic power in Germany - and counting! This is a good reason to take a closer look at the wonderful heart of Bavaria and spend a few days in this welcoming city.
Your stay in Munich
Munich has a total of 25 districts, each offering its special characteristics and attractions. The city bursts with sights, cultural events and beautiful buildings. The heart of Munich is the square called Marienplatz. This is where the famous Glockenspiel, the Old and New City Hall and the renown column called Mariensäule are located. The Marienplatz is also surrounded by the individual districts of the old town. If you go west from Marienplatz, you will inevitably pass the famous square of Karlsplatz, colloquially called Stachus. The Karlstor, Karl's Gate, located there, dates back to the 14th century and was part of the second city fortification. Not only in the city centre but also in the outskirts you will find many attractions worth seeing, such as the Maximilianeum or the famous Angel of Peace.
Discover and learn to love all these amazing highlights of Munich during a holiday trip. Here at tophotels-24.de we offer you the right accommodation that will make your stay in Munich a special experience. It doesn't matter whether you want to stay in the beautiful capital of Bavaria only for a few days or for longer!
Your accommodation in Munich!
A comfortable and pleasant accommodation at a fair price is very hard to find these days. We at tophotels-24.de will make it possible. Our portal is an easy and time-saving way of searching for suitable accommodation in and around Munich. We provide an extensive database of Munich's most renowned accommodations and hotels. This particularly large selection enables us to respond exactly to your requirements and make suggestions as you need them. Whether you are looking for an overnight stay with breakfast for your next business trip or are planning a cosy week with your children in Munich with your own kitchen in your apartment: you will definitely find what you are looking for at tophotels-24.de!
Using our easy-to-use search function you can find what you are looking for with just a few clicks. This applies of course also to bookings at short notice, because our database is always informed about the current booking status of hotels and guesthouses. For further details on the respective accommodations, you can of course also contact the owner directly at any time. We will be pleased to provide you with all necessary information online. We are especially proud of our customer rating system that gives you access to the opinions of other bookers. Learn from other customers how they perceived the offered services, the ambience or maybe also the price-performance ratio of the individual hotels and guesthouses and don't buy a pig in a poke! We at tophotels-24.de are of course also available to answer your questions personally by e-mail or telephone.