Fair hotel Munich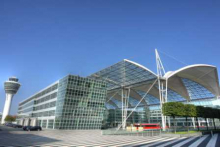 Munich is not only the capital of Bavaria but also one of the most important economic metropolitan areas. Many world-famous companies have set up their main location in Munich, providing jobs and a lot of scientific progress. Therefore Munich is of course also an important destination for congresses and trade fairs of various industries.
The New Munich Trade Fair Centre organises about 40 different trade fairs every year on its approximately 180,000 square metres of exhibition space. Besides the large halls, the New Munich Trade Fair Centre also offers around 360,000 square metres of outdoor exhibition space. Munich is therefore obviously also an attractive destination for business travellers. A trade fair hotel in Munich, nearby the event, is of course particularly suitable for such trips. Fortunately, Munich has a lot to offer, especially in this respect.
Attractive hotels and accommodation near the New Munich Trade Fair Centre
If you are planning to visit the Munich Trade Fair Centre and are still looking for a trade fair room in Munich, you can choose from a number of different facilities and price categories. You can either book a luxury hotel in Munich to attend business meetings and offer your customers and partners an appropriate ambience, or you can book a simpler Munich hotel that will offer you the best standards of comfort yet does not exceed your budget. Since many Munich Trade Fair Hotels have settled around the New Munich Trade Fair Centre in recent years, you will find an exceptionally large selection of different types of accommodation in a variety of price and facilities classes.