Hotel in Munich Berg am Laim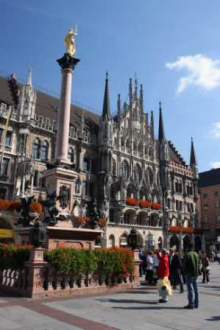 Berg am Laim is booming. Since the relocation of the Munich-Riem Airport, this district has become an increasingly important residential area. The excellent connections to the city centre by tramway, buses, commuter train and metro provide excellent facilities for citizens and visitors staying in a hotel in Munich Berg am Laim.
Initially hosting railway workers' settlements, small single-family houses still dominate the image of this district today. Right in the middle and absolutely worth seeing is St. Michaels Church, an outstanding example of the Bavarian rococo style. Built in the middle of the 18th century by Johann Michael Fischer and furnished by such famous artists as Francois de Cuvillés, it is one of the most magnificent churches in southern Germany.
Shopping, feasting, marveling
You are planning to stay in a hotel in Munich Berg am Laim and want to enjoy something very special? How about a midnight shopping experience of a different kind? At regular intervals, Nachtkonsum opens its doors in the Tonhalle building. Between 5 p.m. and midnight you can go bargain hunting here in a rustic atmosphere.
Berg am Laim also offers excellent catering. Many of the hotels in Munich Berg am Laim have their own restaurant, and the district also offers everything else - from bistros to fine restaurants. By now the Kantine has achieved iconic status, not only offering hot meals until 5.00 a.m. but also entertaining its guests with live music, quiz shows and more. And a very special entertainment programme is provided by the Hellabrunn Zoo, easily accessible from your hotel in Munich Berg am Laim.