Hotel in Munich Schwabing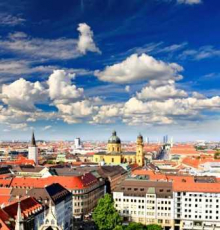 Schwabing is one of Munich's 25 districts and located in the north of the city, right at the Isar river. Culture and arts are very important there. A particularly well-known place is Leopoldstraße with the adjacent gate called Siegestor. Popular both with singles and with families, the Schwabing district is certainly one of the most popular districts of Munich. Featuring many art nouveau facades and located close to the famous English Garden and many impressive town villas and houses, Schwabing is a real highlight of the city.
The newer part of this district is called 'Parkstadt Schwabing' made of many high-rise buildings and new apartments. If you wish to get to know this region, a room in a hotel in Munich Schwabing is your best choice. A hotel in Munich Schwabing is available in higher price categories but can also be found for less money. A visit to Munich is by no means a question of money.
Shopping in Schwabing
The beautiful district of Schwabing is famous above all for its wealth of shopping opportunities, offering shopping lovers a veritable paradise. The road called Leopoldstraße is especially popular. With its many shops and boutiques of world-famous labels, the broad pedestrian zone runs from the famous Siegestor to Münchener Freiheit.
If you are looking for a hotel in Munich-Schwabing and of you like shopping, then you should choose accommodation close to this shopping mile. Right from the hotel in Munich-Schwabing you can go shopping to your heart's content, either walking or after only a few minutes' ride.