Hotel in Munich Am Hart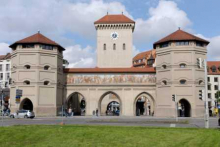 Owing to its direct connection to the A 99 and A 9 motorways as well as the 2 and 8 metro lines, the district Am Hart, in the north of Munich, is easily accessible. Mainly housing estates can be found there, with the old 'Reichskleinsiedlungen' mingling with modern housing estates and many swards in-between so that Am Hart has become a popular residential area for families with children.
And when looking for a hotel in Munich Am Hart and adjacent districts, you will find a choice ranging from a small family guesthouse to a 4-star hotel, meeting most diverse requirements. Its vicinity to the city centre makes a hotel in Munich Am Hart a suitable starting point for many activities. The Olympic grounds with the television tower, the BMW-Welten and - if you are interested - the Educational Collection Military History featuring an overview of the history of military medicine are all located nearby.
And in the evening we'll head for Schwabing
A few minutes ride by car or metro from your hotel in München Am Hart will take you into the heart of the lively district of Schwabing. To the right of Leopoldstraße you can stroll along the artists' market, extending from Münchner Freiheit to the gate called Siegestor. This is where the magnificent Ludwigstraße begins; marvel at the huge complex of the State Library, visit the Field Marshal's Hall or the Theatiner Church or take a detour to the Hofbräuhaus: Schwabing's main streets feature some of the city's most interesting sights. Many small cafés, bistros or restaurants invite you to take a short break. And of course, this is also the right place for you if you want to enjoy Munich's nightlife to the fullest.